B.NENDO (clay) - 36x36 - mixed media
I don't use the elements of Bokusho in my work the way I once did, usually just a portion of the canvas will feature the abstract ink calligraphy that I spent several years studying and developing... but the muse is not entirely quiet and given the time needed to focus, I do hope to eventually work in this manner again. (Available series images here.)
I was delighted to find this article from the
Japanese Times
, which includes the art of two early practitioners of Bokusho. As those who have followed this blog over a number of years know, one of the 'side steps' in my painting was time spent developing an abstract calligraphic technique which I associated with bokusho after a good bit of on line research. Google Alert lets me know when the word pops up but it's usually connected with rock bands, etc. Very seldom does it give me this type of gem! This is a clip of the article that pertains to two artists included in the exhibition.
Tradition that hides in abstraction
(...) In the calligraphy world from around 1945, the lexical foundation that served a communicative role for millennia became subject to fissuring. Morita Shiryu (1912-98) is taken as the representative practitioner of bokusho (ink images) in the present exhibition. He thought the abandonment of the lexical basis of calligraphy to be universalizing and that it rose to the challenges presented by the black-and-white abstractions of American painters such as Franz Kline.
The character for "so" in "So" ("Deep Blue") becomes almost visually unrecognizable, though it retains enough of the direction of the brush to suggest the stroke order with which viewers may retrace its governing character structure. Appending a title to an artwork — as is the art world convention — however, returns Morita's abstractions to their lexical basis that ostensibly he was attempting to dissolve.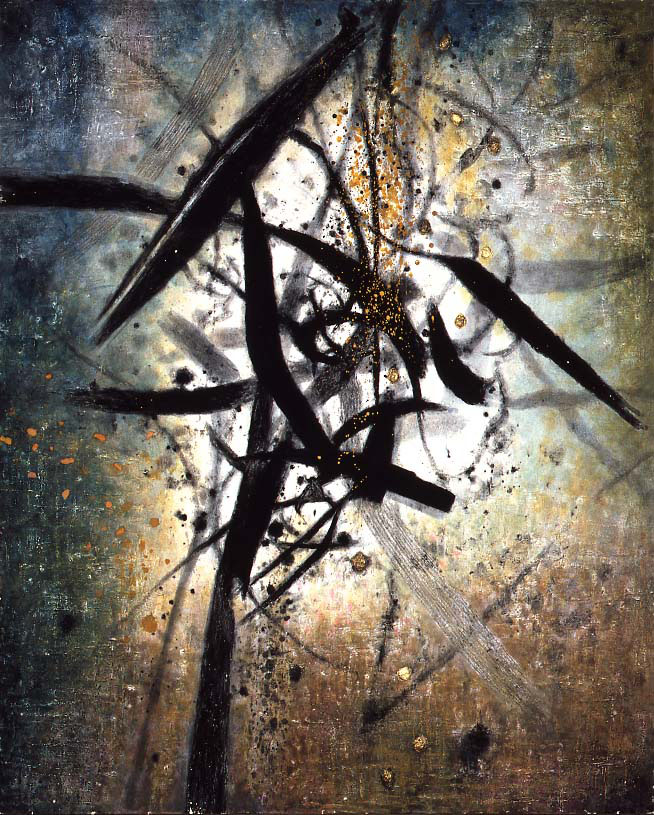 Lyrical calligraphy: Insho Domoto's "Symphony" (1961) shows a move from hard-edged abstraction to a softer, calligraphic one. KYOTO PREFECTURAL INSHO-DOMOTO MUSEUM OF FINE ARTS
The focus of this exhibition centers on the abstractions of Hisao Domoto's uncle Insho (1891-1975)that began from the mid-'50s, though the works on show are less the geometrical abstractions of that time than his more elegantly lyrical ones of the early '60s. The shift from hard-edged abstraction to a kind of lyrical calligraphy is again ostensibly at the suggestion of Tapié who, on his 1957 visit, saw Insho's traditional screen paintings of gourds at Kyoto's Toji Temple and subsequently sought out the artist. Exhorting that the world was enamored with Japanese calligraphy and the spirit of Zen, Insho's work became more calligraphic and he gave his abstractions Buddhist titles. (...)